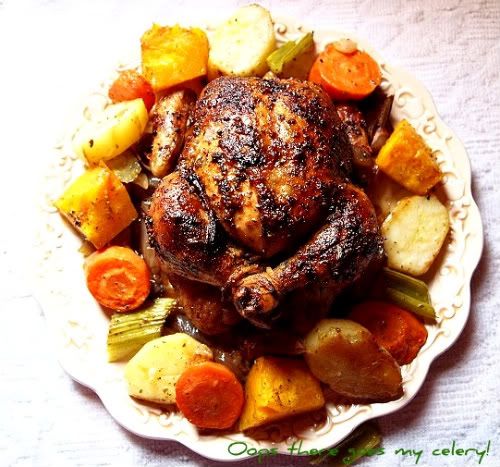 This is a delicious and complete meal for a family of four. Serve hot straight out of the oven to keep warm during the Winter months. If you're a fan of side dishes and have more time on hand, serve along with mashed potatoes, stuffing, and biscuits. The neat thing about this dish is the amount of vegetables used, if you have a picky eater like myself, you can simply pick out a few potatoes and serve them with a few slices of chicken breast, and please don't forget the ketchup.


ingredients
(rub)
1kg whole roasting chicken (rinsed and dried)
2 tablespoons butter
1 tablespoon olive oil
3 garlic cloves (minced)
zest of 1 lemon
1 tablespoon poultry seasoning plus extra to sprinkle over the chicken
2 teaspoons lemon pepper
2 teaspoons dry thyme
(for the cavity)
1/2 lemon
1 inch piece, peeled fresh ginger
a few springs of fresh thyme
4, 1inch pieces of celery
salt, pepper, and poultry seasoning, to sprinkle
(Roasting pan)
2 large onions
12 garlic cloves, unpeeled
salt, pepper, poultry seasoning
1 tablespoon olive oil

Preheat oven to 450 degrees F. In 18 inch by 12 inch roasting pan, place onion slices and garlic cloves, drizzle with olive oil and season to taste with salt, pepper, and poultry seasoning. Set aside.

In a small bowl combine the butter, olive oil, poultry seasoning, minced garlic, thyme, poultry seasoning, lemon zest, salt and pepper. Cream the mixture with a fork. Rub the half of the mixture under the skin and the remainder over the exterior of the chicken

Sprinkle the cavity of the chicken with salt, pepper, poultry seasoning, lemon pepper, and place the thyme, lemon, ginger, and celery inside. Tie the legs with baking string. and sprinkle the entire chicken including the back with salt, pepper, poultry seasoning, and lemon pepper to taste.

Place the chicken over the onions and garlic. Roast for about 1 to 1 1/2 hours, or until the chicken is golden brown, and the juices run clear. Remove from the oven and let sit for 10 minutes before carving.


Winter vegetables
1 medium small butternut squash (peeled, seeded, and cut in half cut to 4 inch pieces
3 large carrots (peeled) each cut 2-inch-long pieces
1 large onion cut into 1/2-inch-thick slices
2 small turnips, peeled and each cut into 6 wedges
3 medium potatoes (peeled) quartered
2 celery sticks roughly chopped
6 whole garlic cloves
1 tablespoon olive oil
salt and pepper to taste

For the vegetables: Place the vegetables in a large mixing bowl, and season with the salt and pepper. Drizzle with the olive oil and place in a roasting pan or on a sheet pan. Place in the oven and roast for 30 minutes, turning once midway during cooking to ensure even browning. Serve with the herb roasted chicken.