When someone mentions cheesecake the first thing that comes to mind is my all American 5inch thick and creamy, New York style cheesecake. If you're looking for that, this is not the cheesecake you want to make but let me just say if you do make it you definitely wont be dissapointed. The tangy lemons are my twist on this Waitross recipe I found while browsing the net. So, next time life gives you lemons? I say, the heck with lemonade! Make this refreshing, not as heavy as your ordinary "Cheesecake".


Ingredients
butter, for greasing
4 large eggs, separated
100g caster sugar
3 tbsp plain flour
400g greek yogurt (or US strained yogurt)
1 unwaxed lemon, juiced and zested
1 teaspoon vanilla extract (optional)

Method
Preheat the oven to 180°C, 350*F. Grease a 23cm round springform cake tin with butter. Beat the egg yolks with the sugar until thick, pale and creamy. Fold in the flour, then the yogurt, lemon zest, lemon juice, and vanilla until it is thoroughly blended. Whisk the egg whites until stiff and fold them into the yogurt mixture. Pour this into the cake tin and bake in the oven for 50-60 minutes, until the top is brown. The cake will puff up like a soufflé and then subside.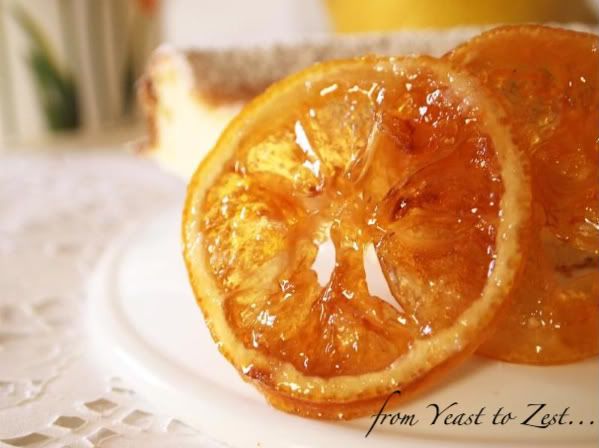 Tangy candied lemons
1/3 cup sugar, plus 2 tablespoons
1/4 cup water
1 large lemon thinly sliced
1 inch piece candied ginger
1 tablespoon lemon juice

Directions
Cute the lemon into thin wedges but make sure not to cut them too thin or the flesh will fall apart. Set a heavy duty pan over medium low heat. Add 1/4 cup of sugar and evenly place the lemons on top. Pour the water and lemon juice into the pan and sprinkle the lemons with 2 tablespoons of sugar without mixing. Place the ginger into the pan and cook until the lemons appear thin, golden in color and the sauce resembles clear caramel. Approximately 20 minutes. Allow the lemons to cool before serving with your cake. Serve one piece of lemon per cake slice and lightly drizzle with your lemon syrup. Note, My intention was to make candies lemons but next time I will double the amount of sugar and water as it make an amazing lemon syrup.