Semolina is the purified middlings of Durum wheat, We all know the Italians use it to make pasta. The Middle East and North Africa as well as Greece use it in baking, from breads to cookies and cakes SEMOLINA makes a wonderful dessert. I love baking with Semolina and would like to share a few of my recipes with you all. When baking please make sure to buy fine semolina, as it is lighter in texture.
*Maamoul*
The word Maamoul simply means filled (filled cookies) these cookies are the number one cookies in my home. After you try these, you will soon forget about your oreos and chocolate chip cookies. Trust me!
Maamoul cookies can be filled with dates or nuts, but I prefer date filled maamoul.
Recipe:
Dough:
2 cups - semolina
½ cup - all purpose flour
½ cup - melted butter (be sure to melt ¾ cup of butter just in case you need more)
½ cup - powdered sugar ( or more if you like sweet cookie covering)
¼ teaspoon salt
2 tablespoons - rose water or Orange blossom water (I use orange blossom)
1 teaspoon – baking powder or yeast dissolved in one tablespoon of warm milk.
Warm milk to make the dough, I usually use about 3/4 of a cup.
Melt your butter and let cool for approx 15min
Sift together your semolina, flour, powder sugar, baking powder, and salt.
In a medium bowl add your butter to your semolina, mix together by hand until mix resembles course crumbs (if the mix is to dry, add ¼ cup of butter).
Now you can add your 2 tablespoons of flavored water, mix well. If your dough smells more like butter, you may need to add more flavor water, 1 tablespoon at a time. Let dough rest for approx 20-30 min, while you prepare your date filling.
Filling
3 cups pitted chopped dates (if using date paste, you will need 1 ½ cups)
1/3 cup of milk
1 tablespoon butter
In a nonstick pan combine your chopped dates (or paste) with milk and butter, cover for approx 3 min (make sure you stand by as they are easy to stick and burn)
Press down on dates with wooden spoon, if dates are soft then you can smash them with a potato masher or simply put them in a food processor until a paste has formed. Allow date paste to cool for 20min before filling your cookies.
*How to form your Maamoul*
Divide your dough into walnut size balls, flatten in your palm (about the size of center of your palm) fill the center with 1 full teaspoon of date paste, close the dough over your paste, make sure to seal well. Oil your Maamoul mold and dust with semolina flour, now you can press your cookie into the mold. I use a spatula to make sure the bottom part of the cookie is even, turn the mold over and gently tap on your counter until the maamoul is released. Repeat with the rest of your cookies making sure to dust your maamoul mold each time (OIL only once, the molds are made of wood, so they will remain oiled for all your cookies, but you must dust with semolina with each cookie you make). If you don't own a Mammoul mold, you can use cookie cutter and prepare the same way you would ravioli. You can also make maamoul balls, after you fill in each cookie and sealed it well, gently roll it in your hand until a ball is formed, roll it in chopped nuts such as walnuts or pistachios.
Bake cookies in a 350* preheated oven for approx 20 min or until the cookies are light and golden. The cookies don't rise much, so you can make more than your ordinary cookies in one tray.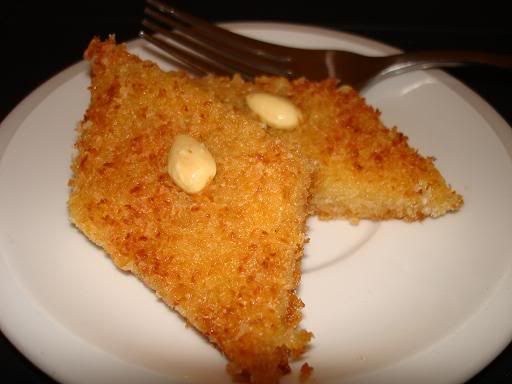 Basboosa is said to have originated out of Egypt, although it is made and served all over the Middle East. Wherever the recipe came from ALL I know is its sweet, cocoNUTTY and oh so yummy.
*Basboosa*
2 cups Semolina
1 1/2 cups coconut
1/2 cup of oil (I use sunflower oil)
2 containers (approx 1 cup) of plain yogurt
1/2 cup Sugar
2 teaspoons baking powder
Pinch of salt
2 tablespoons Orange blossom (I prefer orange blossom, but you can use rosewater)
¼ cup milk (just in case your mix is too dry)
Topping
about 30 blanched almonds
3/4 cup of coconut for topping
Syrup1
1 cup water
1 cup sugar
Lemon peel (3 strips)
1 table spoon lemon juice
1 table spoon honey
1 to 2 tablespoons Orange blossom
Preheat oven to 350*
Sift your Semolina, sugar, and pinch of salt add your coconut and mix well.
Add your wet ingredients to your semolina mix, starting with the oil then the yogurt and flavored water. If the mix appears to be dry, you can add ¼ cup of milk. Butter a medium size cookie sheet and dust with semolina. Spoon your basboosa batter into your tray, the basboosa should only be about ½ inch thick. Pat down mix with your hand (evenly), dust with flaked coconut and cut into squares or diamond shapes, place a blanched almond on each slice. Bake for approximately 30 minutes or until edges and coconut topping appear to be golden brown.
While your basboosa is baking, in a med sauce pan combine sugar, water, lemon juice and lemon peel bring to a boil and cook for at least 5 min or until sugar grains have been dissolved. Remove from heat, add your honey flavored water and mix, set aside. Once the basboosa is out of the oven, pour your syrup *Evenly* over your baked basboosa. Let rest for a couple of hours or until the syrup has been fully absorbed.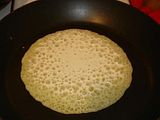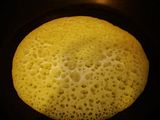 Moroccan crepe like pancakes (honey comb pancakes) Beghrirs
Morocco has a great variaty of delicious buttery pancakes, most of them are made with the same simple ingredients (Semolina, flour, salt, water, yeast, oil/butter) the diffent methods make them absolutely out of this world. You wouldnt even think they were made from the same ingredients. Pancakes in Morocco are usually served for breakfast and tea time. Although the same pancakes are made throughout Morocco, so are more popular than others depending on what city you're from.
1 bowl fine semolina
1/2 bowl white (all purpose flour)
1 sachet baking powder (1 teaspoon baking powder)
1/2 teaspoon salt
1 to 2 tablespoons sugar
2 teaspoons fresh yeast (1 teaspoon packed yeast)
2 bowls warm water
1 teaspoon vanilla (optional)
Sift dry ingredients in a large bowl, add yeast and warm water and mix well. Add mix to blender and blend until smooth for approx 3 min. Pour mix into large bowl and cover with cloth for approx 30-45 min. After mix has rested add 2 tablespoons of warm water and mix.
Cook the beghrirs the same way you would make pancakes but dont flip them over. Once the holes have formed and the pancakes appear to be done, place on a large plate (dont place one on top of the other or they will stick and become doughy). Serve warm and drizzle with honey butter and olive oil.
Moroccan style honey for Beghrir
1/3 cup olive oil
1 tablespoon butter
2 tablespoons honey
1 teaspoon tyme
Mix all ingredients and warm in microwave or stove, drizzle over your pancakes (one by one).
Enjoy!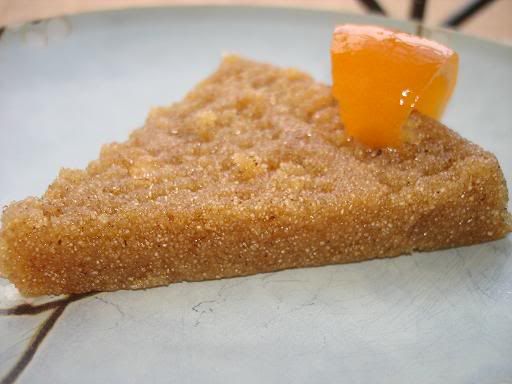 Semolina Cake(No bake)
2 ¾ cup caster sugar
4 cups cold water
1 cinnamon stick
1 cup olive oil
2 cups coarse semolina
½ cup blanched almonds
2 tablespoons pine nuts
1 teaspoon ground cinnamon
Syrup
Put the sugar in a heavy pan, pour in the water and add the cinnamon stick. Bring to the boil, stirring until the sugar dissolves, then boil for another 4 minutes without stirring to make a syrup.
Meanwhile heat the oil in a seperate pan (non stick) when its almost smoking add the semolina gradually and stir continuously until it turns light brown.
Lower the heat add the almonds and pine nuts and brown together for 2 to 3 minutes stirring continuously. Take the semolina mixure off the heat and set aside. Remove the cinnamon stick from the hot syrup. Protecting your hands with an oven glove or dish towel, carefully add the syrup to the semolina mixture a little at a time, stirring continuously. The mixture will probably hiss and spit at you, so stand well away. Return to a gentle heat and stir until all the syrup has been absorbed and the mixture looks smooth.
Remove the pan from the heat and cover with clean dish towel for at least 10 minutes, or until the remaining moisture is absorbed.
Add the mixture to an 8inch round cake pan and set aside. When it is cold unmold it to a serving platter and dust it evenly all over with the cinnamon. Cut into slices, serve with black coffee or tea.
Recipe from *The complete book of Greek Cooking*.
I made a few changes to the recipe, first of all I made half batch, I added only blanched almonds since I had no pinenuts, I also added the cinnamon to the mixture after I removed it from the heat. The syrup was made with cinnamon, Orange peel, and a few drops or lemon juice. I also have my own Moroccan version similar to Moroccan Sellou made with sesame seeds, almonds, anise seed and cinnamon. But I wanted to give thanks to the recipe owner by writing her exact recipe. This recipe is good for Ramadan or for any other religious holiday.