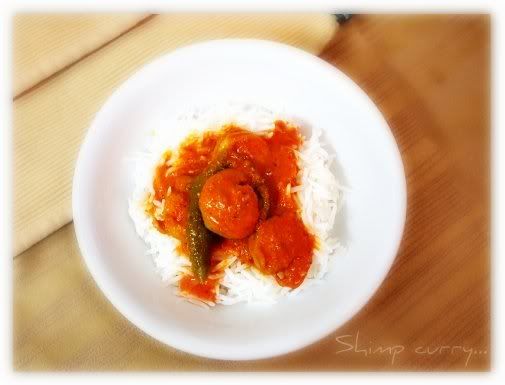 Here's an amazing Indian dish, perfect when served over traditional Indian basmati rice. This dish was prepared by a dear neighbor of mine, the recipe below is one I have previously used and loved. The difference between the two is that her's is much spicier, if you can see she adds whole green chili's. So if you like your food on the spicy side, feel free to add more spice by adding a few Thai green chili's, seeded and cut lengthwise.


ingredients
2lb raw prawns
1 tablespoon desiccated coconut
1 tablespoon ground rice
2 cups coconut milk
2 tablespoons ghee or oil
12 curry leaves
2 medium onions finely chopped
5 cloves garlic, minced
3 teaspoons finely grated ginger (fresh)
2 tablespoons "Madras curry powder" (recipe follows)
1 teaspoon chili powder (optional)
2 teaspoons paprika
1 1/2 teaspoons salt (or to taste)
2 tablespoons lemon juice

Directions
Shell and de-vein prawns. Put desiccated coconut into a dry pan and toast over medium heat, shaking pan or stirring constantly until coconut is golden brown. Remove from the pan and do the same with the ground rice. Put both in a blender container with about half cup coconut milk, and blend until smooth. Heat ghee in a saucepan and fry curry leaves for 1 minute. Add onions, garlic, and ginger and fry until golden brown, stirring with a wooden spoon. Add curry powder, chili powder and paprika and fry on low heat, stir and do not let the spices burn. Add blended mixture, coconut milk, and salt, stir while bringing to a simmering point. Do not cover. Simmer gently for 15 minutes, stirring occasionally. Add prawns, stir to mix, simmer a further 10 to 15 minutes or until prawns are cooked and gravy thick. Stir in lemon juice and serve over rice.

Madras style curry paste
ingredients
1 cup ground coriander
1/2 cup ground cumin
1 tablespoon each ground black pepper, turmeric powder, black mustard, chili powder, and salt
2 tablespoons each crush garlic and finely grated fresh ginger
vinegar for mixing and 3/4 cup of oil

Directions
combine ground spices and salt in a bowl. Add garlic and ginger and sufficient vinegar to mix to a smooth thick puree. Heat oil in a saucepan and when very hot turn in the spice mixture and reduce the heat. Stir constantly until spices are cooked and oil separates from spices. Cool and place in a glass jar until needed.