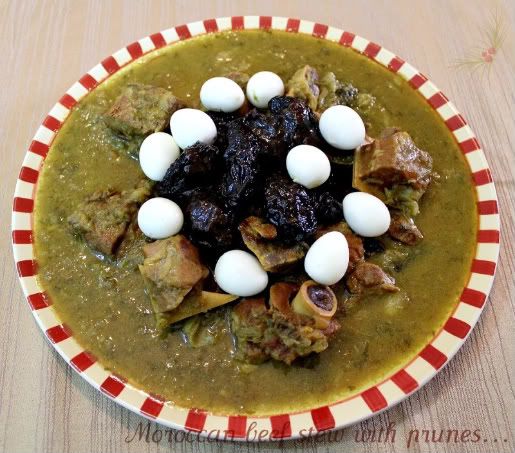 Here's another famous Moroccan dish that had me at first bite. Served at most special occasions I must say I've tried it with different toppings such as fried almonds, toasted sesame seeds, and eggs but my all time favorite is quail eggs and not overly covered in prunes... I do however cook a big amount of prunes for those who like it the traditional way. I'm using veal in this recipe, so expect the color to be a little darker when cooked with beef or lamb. Thanks to a friend and fellow blogger I have learned the methods of cooking these dishes, I stood around many times watching my sister's in law cook but never stood long enough to see what happens after everything is put together. Of course we all come up with our own ways of cooking the same dishes, sometimes adding new flavors of our own, the only thing different I do is add fresh ginger, and whole cut up onions with a lot less butter. Give your mouth a taste of the Kasbah, you wont regret it.

Ingredients
2lbs beef, veal, or lamb cut into big chunks (bone in)
2 medium large onions, grated or finely chopped in a food processor
5 garlic cloves, minced
1 bunch coriander, tied in a bouquet
1 teaspoon ginger powder
1/2 teaspoon turmeric powder
3 two inch pieces or cinnamon bark
1 tablespoon freshly grated ginger
1/2 teaspoon saffron threads, crushed
1/2 teaspoon pepper
2 tablespoons oil
2 tablespoons olive oil
1 tablespoon butter
6 small onions, peeled and cut in half
salt to taste (at least 1 teaspoon) salt as you go

Stewed prunes
15 to 20 large prunes
2 tablespoons sugar
1 tablespoon honey
1/2 teaspoon cinnamon

Directions
In a large bowl combine all the ingredients but the fresh ginger, coriander, and saffron with 1 tablespoon olive oil, stir to combine. Place a large heavy duty pan (preferably a dutch oven), add the remaining oil and set the heat to medium. Add the meat and onion mixture into the pan and cook on both sides for approximately 5 minutes each, pour 1 cup hot water around the edge of the pan along with the fresh ginger and saffron, place the coriander bouquet in the center and cook for 15 to 20 minutes or until the sauce begins to thicken. Turn the meat over and add 2 cups hot water, cover and simmer under medium low heat until the meat is tender (approximately 1 1/2 hours) make sure to check the meat and sauce after one hour, removing 1/2 cup of the sauce to be used for stewing the prunes and placing the onion halves over the meat. If you feel the meat in not yet close to being tender, add 1/2 cup hot water, cover and check again after 30 minutes. The stew should be ready when the meat is falling off the bone and the onions have soften.

Prunes
After one hour of cooking the stew wash and drain your prunes, place them in a medium heavy duty pan cover with hot water, cover and cook until the prunes are tender to the touch. Drain the water from the prunes, add the reserved sauce along with the sugar, honey, and cinnamon. Simmer for 10 10 15 minutes or until the sauce thickens. Serve the meat in a large plate, cover with a desired amount of stewed prunes and garnish with fried almonds, toasted sesame seeds, or boiled eggs. Eat with warm bread, enjoy!





Recipe adapted from, http://moroccanfood.about.com/.