The sauce used in this recipe is one that I created using some of the most common Mexican chile sauce ingrediets. If you're not familiar with the ingredients, please visit the attachments below. Mexican oregano is one of the most fragrant herbs I have ever came across and a favorite of mine. Frying the onion separately from the sauce really makes all the difference, when I think Mexican food I think of the smoky flavors that linger in your tongue with every bite and this technique really does it for this very simple dish. The type of cheese and amount is entirely up to you, some of my favorites are Manchego, Monster, and Monterey Jack cheese all which go very well with any spicy Mexican dish.



Ingredients
2 large New Mexico dried, Red Chilis
6 dried, Chile Piquin peppers
1 1/2 teaspoons dried "Mexican" oregano
4 garlic cloves
1/4 cup cilantro
1 heaping tablespoon, tomato paste
2 1/2 cups chicken broth
1 medium onion
1 teaspoon cumin powder
salt and pepper to taste

1 8oz pack white corn tortillas
1 to 2 cups grated cheese of your choice (Manchego, Monterey Jack)
1 medium onion, finely chopped
1/4 cup chopped cilantro
3/4 cup oil


Directions
Soak the large chilis in hot water and cover for approximately 5 minutes or until they plump up and soften up a bit. Cut a slit in each chili and remove the seeds and stem. In a medium heavy duty pan add your seeded chilis, oregano, chile piquin, tomato paste, garlic, salt, pepper, and chicken stock. Simmer for approximately 15 minutes or until all the ingredients soften up. In a seperate pan fry the chopped onion with 1 to 2 tablespoons of oil until golden brown, add the cumin powder and toss for a few seconds. Remove from heat and set aside. Allow the ingredients to cool down for a few minutes. Combine all of the ingredients in your blender and blend until smooth. Strain the chile sauce into a pan and set aside.

Stack the tortillas and cut into 8 triangles.
Heat oil in a 12-inch heavy skillet over medium heat until it shimmers, then fry tortillas in 6 batches, turning once, until golden brown, 3 to 5 minutes per batch. Drain on layers of paper towel.

Bring 1/3 of the sauce to a low simmer in a non stick pan, add the tortillas and give it a light toss. Sprinkle the chilaquiles with cheese and allow it to melt. Top the Chilaquiles with chile sauce to taste on each serving plate, sprinkle cheese, chopped onions, and cilantro to taste. Serve hot with Spanish rice.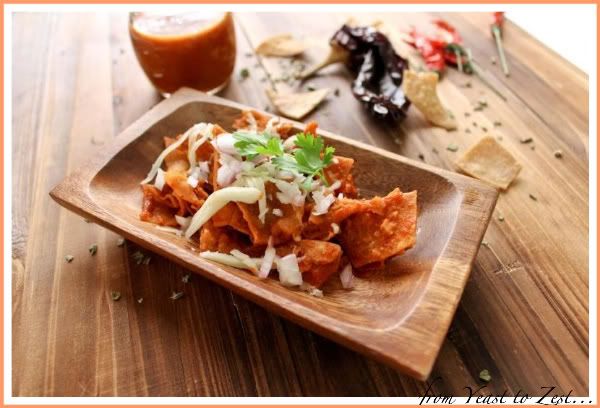 Capsicum (chile piquin).
http://en.wikipedia.org/wiki/Capsicum

Types of dried chilis used in Mexican cooking. The small chilis used in this recipe can be replaced with Chile de Arbol, Dried Thai Chilis, or Dried Puya Chilis.
http://www.marxfoods.com/products/Bulk-Dried-Peppers