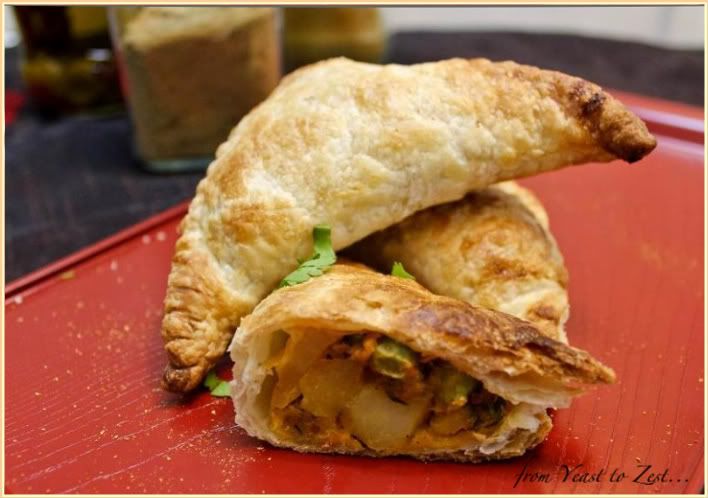 These savory pastries always seem to dazzle people and are a favorite in everyones Ramadan dinner table. Some popular fillings are minced meat, vegetable, leaks, and potato, the options for savory filling are endless. The puff pastry in this recipe really takes "Samosas" to another level. Flaky crust on the outside with a warm lightly spicy potato filling in the inside. The puff pastry found here in the Middle East is sold in different size's, the one used in this recipe is approximately 5 by 5 inches.

My apologies for the poor pictures, I was hesitating to post this recipe for that reason but rest asure the recipe itself is worth it.

Ingredients
5 to 6 cups boiled cubed potatoes
1 cup frozen peas
1 large onion, finely chopped
2 tablespoons, finely chopped cilantro
2 garlic cloves, minced
2 teaspoons, grated fresh ginger
1 green chili, finely chopped
2 large roma tomatoes, grated
1 tablespoon tomato paste
1/3 teaspoon tumaric powder
1 teaspoon curry powder
1/4 teaspoon cinnamon powder
1/2 teaspoon cumin powder
salt and pepper to taste
2 tablespoons oil
1 tablespoon butter
20 to 25, 5x5 squares of puff pastry
Heavy cream or 1 egg to brush the samosas

Directions
Heat the oil and butter in a large non stick pan, over medium heat. Add the onion and cook until light golden brown, add the garlic, ginger, green pepper, spices, and cook for approximately 3 minutes. Add the grated tomatoes and cilantro and cook until most of the tomato juices have evaporated, adding an extra tablespoon of oil if dry. Add 1 tablespoon of tomato paste along with 1/4 cup of water and cook for 2 minutes, add the peas and potatoes and cook until the water in the curry has evaporated. If the potatoes or peas are still a bit undercooked, add 2 to 4 tablespoons of water and cook until that water has evaporated and the potatoes are soft to the touch. Allow the dry curry to cook before filling the puff pastry. Make 4 samosas at a time to prevent the puff pastry from warming up, leave the remainder of puff pastry squares refrigerated at all times. Brush the edge of the pastry with egg wash and place a heaping tablespoon of filling in the center of each square, fold the pastry over to make a triangle, press the edges to seal with your fingers or with a fork. Repeat with the remaining puff pastry squares, but make sure to place each samosa back into the refrigerator to keep the puff pastry cool. Cool the samosas for approximately 15 minutes before baking. Meanwhile, preheat your oven to 420* F. Place the samosas 1 inch apart in a non stick pan, brush with egg wash or cream and bake for approximately 15 to 20 minutes or until nicely puffed and golden brown in color.