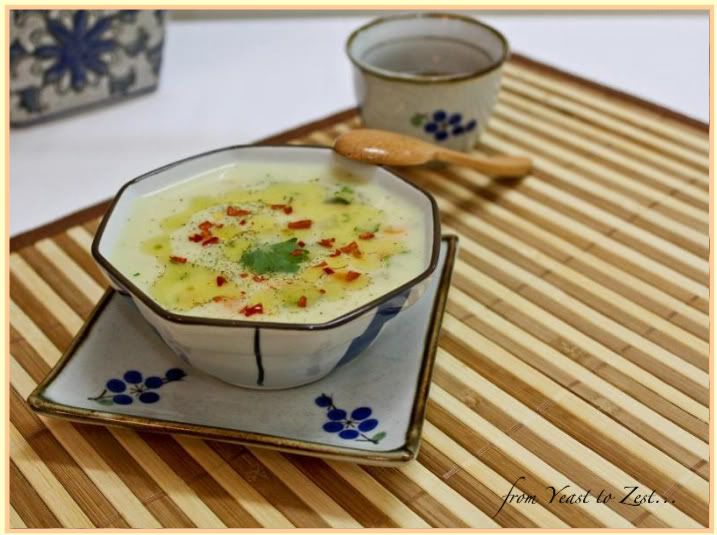 The richness of this potato soup is sure to fill you up, eat it along side some crusty bread or acompanied by a salad. Drizzle with good quality extra virgin olive oil and sprinkle with oregano and crushed red pepper flakes.


Ingredients
4 to 5 cups boiled, peeled, and cubed potatoes
1 large carrot peeled and chopped
1 large celery stalk, chopped
1 medium onion, chopped
3 garlic cloves thinly diced
1 garlic clove, minced
1 teaspoon oregano
1 bay leaf
1 1/2 cups whole milk
1/4 cup heavy cream
5 cups chicken stock
2 tablespoons olive oil
1 tablespoon butter
salt and pepper to taste

Directions
Heat the oil in a large pan over medium heat. Add the chopped onion, carrots, and celery, and cook, stirring frequently for 5 minutes or until the onions along with the vegetables have softened. Add 3 cloves of thinly diced garlic, oregano, bay leaf, salt, and pepper and stir to combine. Add the chicken stock and cook for approximately 15 minutes or until the vegetables have softened a bit. In your electric blender combine the chopped boiled potatoes and milk with the minced garlic, salt, and pepper and blend until smooth. Pour the potato mix into the soup and whisk until well combined and the potatoes are lump free. Cook for an additional 10 minutes under medium low heat, turn the heat off and whisk in the cream and butter. Serve hot and drizzle with olive oil or top with grated cheese and chopped scalions.