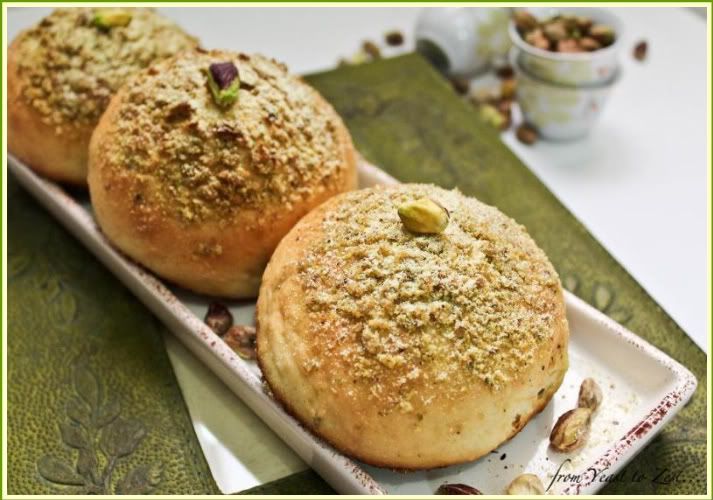 The recipe below was for traditional Moroccan sweet buns otherwise known as "Krachel" but being that I was going to share them with local neighbors I decided to give them a more Middle Eastern twist by topping them with crushed pistachios. When it comes to baking my mind usually takes different routes as I go along, that's when the idea or a Middle eastern "Esponja" (Mexican sweet buns) came into mind. Note that this was not my intention so stay tunned for a more traditional pistachio "Esponja" recipe but let me tell you these sweet little buns were absolutely amazing and perfect for and afternoon tea or coffee break.


Ingredients
4 cups all purpose flour
2 1/2 teaspoons yeast
3/4 cup sugar
2 large eggs
1 cup lukewarm milk
3/4 teaspoon salt
1/4 cup plus 2 tablespoons melted butter
2 tablespoons oil
2 teaspoons sesame seeds (toasted)
2 teaspoons fennel seeds
Topping
1/2 to 3/4 cups pistachios
4 heaping tablespoons powder sugar
1/4 cup melted butter

Directions
sift the flour, salt, and sugar in a large bowl. Set aside. In a seperate bowl beat your egg, oil, and vanilla. Set aside. In a small bowl or in your stand mixer mix the yeast with the milk and allow it to sit for 5 minutes. Add a few tablespoons of flour to the yeast mixture and beat until a smooth batter is formed. Set the mix aside for 5 more minutes. After 5 minutes whisk the egg mixture into the rested yeast batter until smooth. Slowly add the flour leaving 1/4 cup aside. Add the toasted sesame seeds and fennel seeds, and kneed to combine, add the remainder of the flour until a soft and slightly sticky dough is formed. Make sure to kneed the dough for a few minutes for better results. Place the dough on a lightly oiled bowl cover with plastic and let rise in a warm place, for 1hr or until doubled in size.

After the dough has risen, divide it into 12 to 16 smooth, evenly shaped balls. Place the balls of dough two inches apart on an oiled baking sheet, and slightly flatten the tops of the dough to form a rounded disc.

Cover the baking sheet with a towel and leave the dough to rise another hour or longer, or until the rolls are very light and puffy.

Add the pistachios and powder sugar into your food processor and pulse until a powder is formed. Melt 1/4 cup of butter and set aside.

Meanwhile preheat your oven to 370* F. Brush the rolls with the melted butter and carefully place 2 teaspoons of the sweet pistachio sugar on top of each bun to cover evenly. Press the mixture down and drizzle 1 teaspoon of butter over each pistachio covered bun. Dust again with approximately 1 teaspoon of pistachio mix. Bake for 15 to 20 minutes or until golden brown in color. After 15 minutes of baking test the buns by lifting with a spatula, if the bottom is golden brown and the buns appear to be baked but the tops are not quite golden, set the oven to a low broil and broil until the tops are golden brown.

Remove the baking pan from the oven and cool slightly on a wire rack and dust again with the pistachio powder sugar. Serve warm....