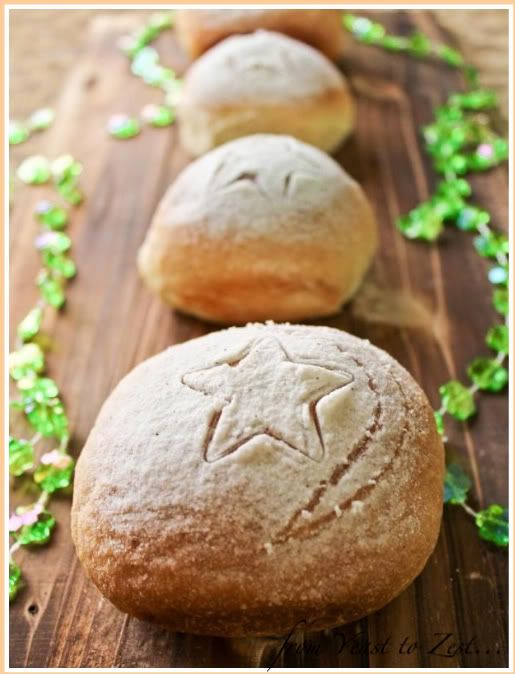 I should start this post by warning you all about my Ramadan pictures. Since our Ramadan meal is usually served in the late hours when all the beautiful sunlight is no longer visible my pictures wont appear as vibrant. The lighting in my home is not the best and whatever pictures I do get to take in the day time will have to be of my leftovers. This dough was suppose to make a Polish buchty bread, so feel free to leave out the date filling. The date paste I make is a bit different than any others I have tasted, I make mine with milk, spices, and a little bit of butter giving it a creamy light taste and not a heavy tamarind like flavor some others tend to have. The date filling is the leftovers used for this recipe, the recipe makes approximately 3 cups date paste, you can either cut the recipe in half or store the paste to use in other recipes such as maamoul. Dusting the rolls with plenty of powder sugar straight out of the oven creates a soft, and buttery sweet topping for the rolls.

Ingredients
4 cups white flour
1 teaspoon salt
1/2 teaspoon cinnamon powder
1/2 teaspoon cardamom powder
1/4 cup sugar
1/2 cup butter
1/2 cup milk
1 1/2 teaspoons yeast
3 eggs lightly beaten
3 tablespoons butter melted
confectioners sugar for dusting


Directions
Grease am 8inch square pan or pan of choice. Sift the flour and salt together into a large bowl and stir in the suagar. Make a well in the center. Melt 1/4 cup of butter in a small pan then remove from heat and stir in the milk. Let cool until lukewarm. Stir in the yeast into the milk mixture until it has dissolved. Pour into the center of the flour and stir in enough flour to form a thick dough. Sprinkle with a little of the surrounding flour and let sit in a warm place for 30 minutes.

Gradually beat in the eggs to the remaining flour to form a soft dough. This will take about 10 minutes. Cover with lightly oiled plastic wrap and let rise in a warm place for about 1 1/2 hours or until doubled in bulk.

Turn out the dough onto a lightly floured surface and punch down. Divide into 16 equal pieces and shape into rounds. Flatten each ball into a disk and fill the center with approximately 1 heaping teaspoon of date paste, fold all sides in and pinch to seal. Roll the filled dough into a ball and continue with the remaining balls of dough.

Melt the remaining butter and roll the rounds in to coat, then place slightly apart in the pan. Cover with slightly oiled plastic wrap and let rise in a warm place for about 1 hour or until doubled in size.

Meanwhile preheat the oven to 375* F. Spoon in any remaining melted butter evenly over the rolls and bake for approximately 25 minutes or until golden brown. Remove the pan from the oven and dust the rolls with plenty of powdered sugar. Let cool for 5 minutes then remove onto a wire rack and dust again with sugar.

*Adapted from, Bread (Breads of the world) with some minor changes to the original recipe.