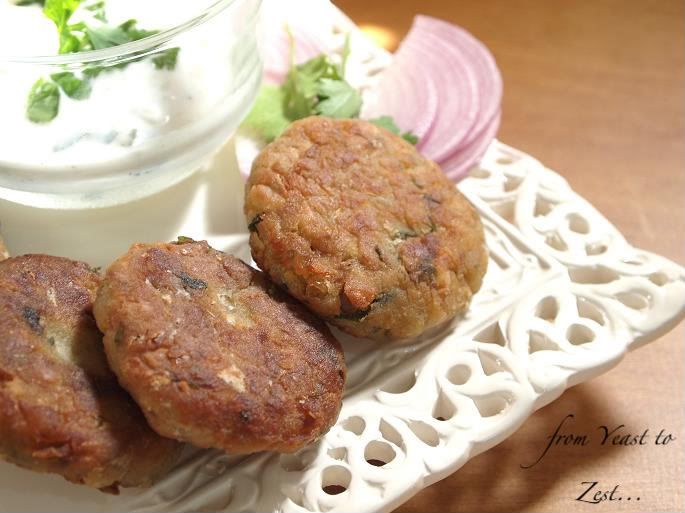 These tasty Greek patties are extremely cheap to make yet they will captivate anyone who tries them. With a slight bit of shame in my heart I can honestly say I have found a replacement to my beloved falafel. Eat them plain with radishes and lettuce or as a sandwich filled with all your favorite veggies. I served mine in pita pockets filled with red onions, cucumber, red, and green tomatoes topped with yogurt and feta sauce.
Ingredients
1 1/2 cups chickpeas (soaked overnight in water to cover)
2 large onions (chopped)
2 garlic cloves (crushed)
3 tablespoon cilantro (chopped)
1 tablespoon flat leaf parsley (chopped)
1 large egg, slightly beaten
3 tablespoons, self rising flour
1 tablespoon cumin powder
salt and pepper to taste (be generous with the pepper)
8 tablespoons olive oil
1/2 cup wheat or all purpose white flour
Directions
After the chickpeas have soaked overnight, drain and rinse them under cold water. Put them in a large pan and cover with plenty of cold water and bring them to the boil. Skim the froth from the surface of the water with a spoon until the liquid is clear.
Cover the pan and cook for 1 hour to 1 1/2 hours or until chickpeas are very soft (halfway through the cooking add plenty of salt to taste). A faster way to cook them is in a pressure cooker for 20 to 30 minutes. Once the chickpeas are cooked and soft strain the liquid out, reserving at least 1/4 cup of the water they were cooked in.
You can either mash the chickpeas with a potato masher or in your food processor until mashed but a few lumps of chickpeas still appear in the mix. Add 1 to 3 tablespoons of your reserved liquid, if needed (I only added 1tpsp).
Heat 3 tablespoons of olive oil in a nonstick pan, add the onions and saute until light golden. Add the cilantro, garlic, and cumin and stir for a few seconds or until their aroma rises. Set aside to cool slightly.
Scrape the chickpea mash into a large bowl and add the egg, self rising flour, fresh parsley, and onion mix. Add plenty of salt and pepper and mix well.
Take large walnut size pieces and flatten them into mini hamburger like patties. Coat the patties lightly in the flour. Heat the remaining olive oil in a large non stick pan and fry them in batches until they are light golden brown and crisp on both sides. Drain on a kitchen towel and serve hot.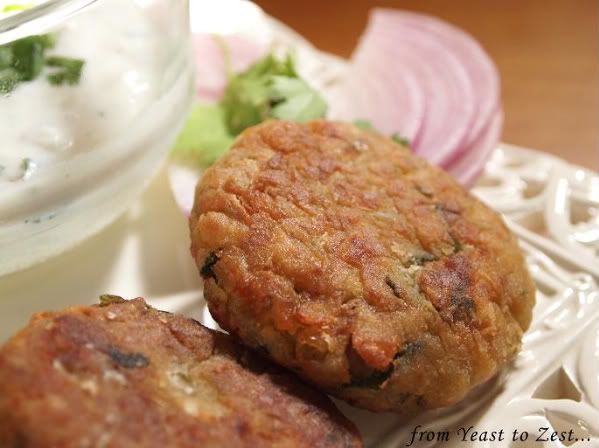 Yogurt and feta sauce
Ingredients
1 cup greek yogurt
1 tablespoon olive oil
2 teaspoons lemon juice
1 large garlic clove
2 tablespoons finely chopped cilantro or parsley
1 to 2 tablespoons soft feta cheese
salt and pepper to taste.
Directions
Add all the ingredients into a bowl and mix with a hand whisk until well combined. Serve over the rissoles or use as a dip.