H

azelnut chocolate, pear cake

(

with

n

utella

)

...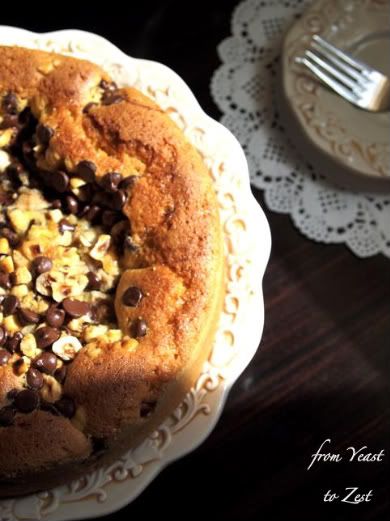 This is the first time I participate in "World Nutella Day" but almost certain it wont be the last time. Nutella is the number one spread in my home and a must have in my pantry. I was just taking a look in my cabinets and I have quite the collection of empty nutella jars, that by the way make great cups. I was feeling a bit hesitant at first and wasn't sure I would participate in this "Oh so fabulous" almost my favorite holiday in the world because every recipe that would pop in my head was already out there. But here I am with a fabulous cake recipe made with chocolate morsels, hazelnuts, pears, and best of all Nutella. Pear this cake (haha Pear, get it?) with homemade hazelnut icecream and drizzle with warm nutella.








ingredients
1 cup all purpose flour
1/2 cup pastry flour
1 tablespoon baking powder
1/4 teaspoon salt
1 cup sugar
1 teaspoon vanilla
4 eggs
6 tablespoons browned butter
3 tablespoons hazelnut, argan, or almond oil
2 large pears peeled and diced small
3/4 cup bittersweet chocolate morsels
1/4 to 1/3 cup nutella
3/4 to 1 cup toasted hazelnuts
3 tablespoon almond flour

Directions
Preheat your oven to 350*. Butter a 9inch springform pan and dust with 3 tablespoon almond or hazelnut flour (you can dust the pan with regular flour).

(How to brown your butter)
Heat a thick-bottomed skillet on medium heat. Add 6 tablespoons of sliced butter (sliced so that the butter melts more evenly) whisking frequently. Continue to cook the butter. Once the butter begins to foam up a bit, then subside, watch carefully as lightly browned specks begin to form at the bottom of the pan. Smell the butter; it should have a nutty aroma. Remove from heat and place on a cool surface to help stop the butter from cooking further and perhaps burning. I strained my butter to get rid of the small milk solids but you can skip this step. Add your 3 tablespoon of oil. Set aside in a warm place (you can place the cup with your butter on top of the warm stove).

In a large bowl sift you flour, salt, and baking powder. Set aside. In a seperate bowl with and electric whisk or home mixer (kitchen aid, kenwood etc.) whisk your eggs on medium high speed for approximately 5 to 7 minutes or until they become very thick and pale in color.

Once the eggs have thickened, gradually add your sugar and continue to whisk until well combined. With a hand whisk or spatula gently fold in your flour mix alternately with the brown butter and nut oil to your egg and sugar mix. Mix until combined (Do not overmix).

Add 2/3 of your batter into the prepared pan and dot the top with nutella (I used and oiled teaspoon). Add the remainder of your batter over the nutella and top with chopped hazelnuts, chocolate morsels, and chopped pear. Bake the cake for approximately 45 to 55 minutes of until golden in color and tester inserted in the center of the cake comes out clean.

A neat trick to making sure the cake is done and ready to be taken out of the oven is to give your oven a shimmy shake (come on, we've all done that to vending machines.) if the center of the cakes wabbles (is that even a word?) continue baking the cake. It took my cake about 55 minutes to bake evenly.

Allow your cake to cool in the pan for 5 to 7 minutes before removing the rim.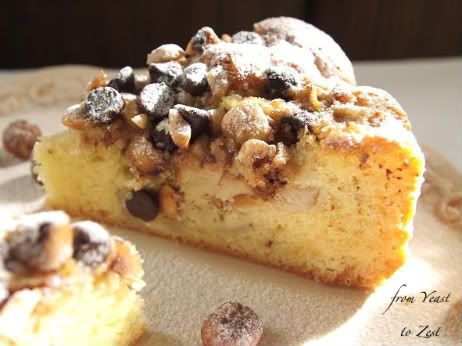 NutellaLicious!!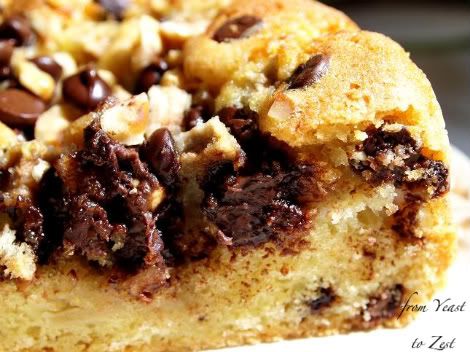 n
utella

b

oy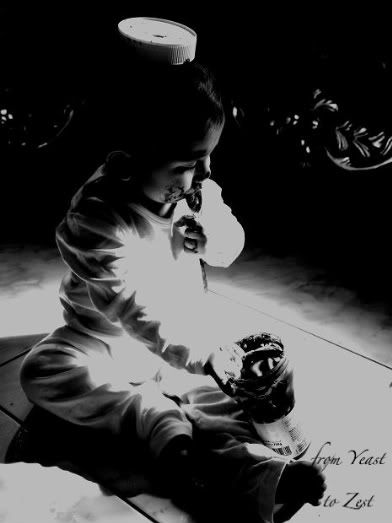 W

orld Nutella Day 2011

Sara from Ms. Adventures in Italy and Michelle from Bleeding Espresso solemnly declare Saturday, February 5th "World Nutella Day 2011″ – a day to celebrate, to get creative with, and most importantly, to EAT Nutella.