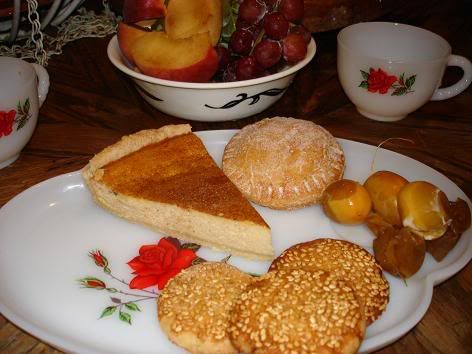 This Greek tart is so delicious and light, not like any cheecake you've ever had.
Honey,
Honey is plentyful in Greece because of the long flowering period. It is intensely scented and flavoured with flowers or herbs, such as tyme. Used in sweets and pastries, it is also served with thick yogurt and topped with wallnuts.
Ricotta Cheese,
Ricotta (pronounced /riˈkɔtːa/ in Italian) is an Italian sheep milk or cow milk whey cheese[1]. Ricotta lit. 'recooked' uses the whey, a limpid, low-fat, nutritious liquid that is a by-product of cheese production.
Ricotta is produced from whey, the liquid separated out from the curds when cheese is made. Most of the milk protein (especially casein) is removed when cheese is made, but some protein remains in the whey, mostly albumin. (wikipedia.com)
Ricotta Cheese and honey tart
Pastry
2 Cups plain (all purpose flour)
Pinch of Salt
2 Tbsp Caster (superfine sugar)
½ Cup unsalted butter cubed
3-4 Tbsp cold water
For the filling
4 eggs
¼ Cup caster superfine sugar
1 Tbps plain all purpose flour
2 ½ Cups Cups Ricotta cheese
4 Tbsp Greek thyme scented honey
½ Tsp cinnamon
Pastry
Mix flour and sugar in a bowl, gently rub in the butter with your fingertips until the mixture resembles breadcrumbs. Add th e water little at a time until the mixture comes together and forms a dough. It should not be too wet. Draw it into a ball, wrap it in plastic wrap and chill for 30 min.
Preheat oven 350*
Place the chilled pastry on a lightly floured surface, roll it out thinly and use it to line a 10inch Springform pan. Carefully trim off and excess pastry by running a sharp knife around the edge.
Filling
Beat the eggs in a bowl, add sugar and flour, stir in and then beat until fluffy. Add the ricotta, honey and cinnamon and beat until well mixed.
Pour the mixture into the pastry case and level the surface. Place the tin on hot baking sheet and bake tart for 50-60 minutes or until it is light golden in color.
Remove the tart from the oven and sprinkle with (approx) ½ teaspoon of cinnamon.
Serve tart alone, or with fresh fruit such as peaches, figs, nectarines, or oranges.
Recipe adapted from, The complete book of Greek Cooking.